---
Reference Material for Enetai - Nova Scotia Cruise, 2017
Cruising Guides
A Cruising Guide to Nova Scotia, Second Edition, Completely Revised, Peter Loveridge,
circa 2011 with some corrections and updates. This is an updated PDF version of the original 1997 hardcover book. It is Self published and only available for purchase from Dr. Loveridge. This is a very exacting and complete guide compiled from years of research and observation. There are many sketch charts and drawings of harbor approaches. An exception is the North Shore along Northumberland Strait of which there is not much detail. The cruising guide is sprinkled with political and social commentary, probably why it is self-published.
Peter Loveridge
3759 highway 3
RR#1
Glenwood
B0W1W0
Nova Scotia , Canada
peter.loveridge@ns.sympatico.ca
CRUISING GUIDE TO THE NOVA SCOTIA COAST
, Alexander MacMillan, Editor, Alexander Weld, Publisher. 2014, Pilot Press, Chestnut Hill Massachusetts. This spirol bound guide consists of harbor descriptions sent in by correspondents in "the field". It is loosely organized by region with some connective text. It is updated regularly as new information comes in.
Down East Circle Route, Capt. Cheryl Barr, 2003 This book inspired our cruises on "downeast Circle Route"! The suggested travel schedule of three months to do the whole loop is very aggressive, especially for a sailboat. This book only hits the high spots along this coast. After all, you can't get all the way around in three months by looking into every little harbor.
The Voyage of Yankee Lady, Judith Silva, 2013 This book is a narrative of a cruise around New England by three sailboats from Connecticut. It is filled with detailed observations of the ports they visited and the waters they navigated. Aside from its entertainment value as a travel log, this book is a useful adjunct to the cruising guides.
ActiveCaptain This web based database lets boaters share information on marine facilities. The information is more current than in any cruising guide but may reflect the attitude of the boater writing the entry. ActiveCaptain was recently purchased by Garmin.
Charts
Unfortunately there is no chartbook available for Nova Scotia. One has to purchase a set of Canadian government charts from a retail outlet. This is from the Canadian Hudrographic Services chart catalog dated 2008. Click to enalrge.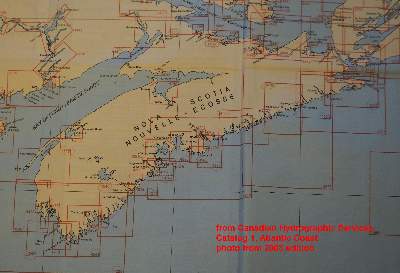 These are the Canadian Charts we used for our 2017 cruise.
4012
4013
4340 Grand Manan
4240
4241
4242
4244
4211
4384
4386
4385
4237 Approaches to Halifax Harbour
4236
4235
4234
4233
Purchasing all these charts is a major expense. They are about $20 each. It may be possible to find a set of used ones that are not too old on ebay or some such.
Tide Tables: We prefer the Canadian Tide and Current Tables, published by the Canadian Hydrographic Service but there is probably an app that will do the job.
Atlas of Tidal Currents, Bay of Fundy and Gulf of Maine: also published by the Canadian Hydrographic Service. This current atlas is absolutely necessary, in my opinion, to traverse the Bay of Fundy. All the current charts are in reference to the tidal cycle so this publication does not need to be replaced every year.
Sailing Directions: These government publications are useful alongside the cruising guides. They have aerial photographs, harbor charts and descriptions of the coast.
ATL 105 Cape Canso to Cape Sable,
ATL 106 Gulf of Maine and Bay of Fundy,
ATL 108 Gulf of St. Lawrennce (Southwest Portion)
Last but not least
, all the free tourist maps and brochures available in the Tourist Information Centres.
---